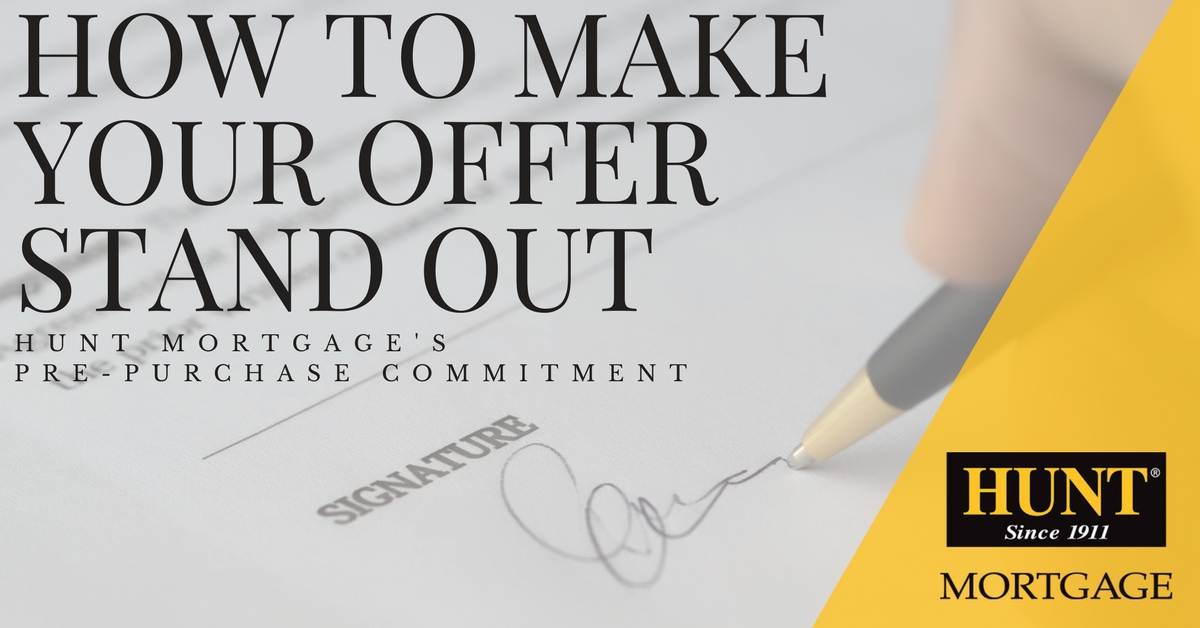 How To Make Your Offer Stand Out: HUNT Mortgage's Pre-Purchase Commitment
Getting a mortgage pre-approval is important in today's competitive market and almost a necessity when putting in a serious offer on a house. Pre-approval letters show an approximate purchase price you qualify for, an expiration date for the qualification, and are based on your current credit history, income, assets and debt. However, pre-approvals are not a guarantee, and any changes in these determining factors can affect your eligibility for your mortgage. Pre-approvals do not go through a full underwriting review by the lender, so it's not an absolute commitment to issue you a home loan. And since you'll likely be competing with other offers on your potentially perfect home, how do you stand out?
HUNT Mortgage offers a competitive advantage to help you win the home of your dreams. The HUNT Mortgage Pre-Purchase Commitment Program delivers a fully underwritten commitment, subject only to collateral conditions. To reassure buyers, HUNT Mortgage backs its commitment with a $1,000 guarantee. If a buyer does not close on a transaction due to the buyer's mortgage application failing, we will pay the seller $1,000. The guarantee distinguishes HUNT customers from other buyers a seller may be considering.
Contact Us or call 888.433.8373 to discover how you can apply for your own no cost, no obligation Pre-Purchase Commitment that give you a competitive advantage when you shop for a home. By getting a commitment for your financing up front, you can truly enjoy the process of shopping for your dream home.
Disclaimer: The guarantee is null and void if: a) The property is not deemed acceptable collateral for the loan due to value and or condition; b) The buyer or seller willfully cancels the transaction; c) The buyer voluntarily terminates employment and or voluntarily divests assets prior to closing; d) The buyer takes out new credit after the Pre-Purchase Commitment is issued; e) The seller is unable to deliver clear acceptable title; f) Guarantee is only on owner occupied single family transactions; g) The transaction does not close due to a contract contingency not being met other than the mortgage financing; h) Pre-Purchase Commitment was issued with maximum specific sale price and taxes, guarantee is void if either of these are exceeded; i) The contract closing is dated past the expiration of the Pre-Purchase Commitment. Guaranty is only on Pre-Purchase Commitments issued by HUNT Mortgage.